Far away from tremendous cities like Tokyo and Osaka, wonders of nature are everywhere on the northern island. Come to visit an unaltered Japan gifted by Mother Earth like nowhere else.
Hokkaido located on the extreme north, hence its name meaning literally "the northern sea route" is the second largest Island of the archipelago. Yet, due to its geographical position, even now most of the Japanese people are not well aware of what kind of things they can find or do over there. Although it may not be internationally renowned like Kyoto, Hokkaido gets a lot of potentials. This island counts so many breathtaking places to see, funny and original activities to do with welcoming and friendly Japanese to meet that you better consider going to take a look for yourself soon.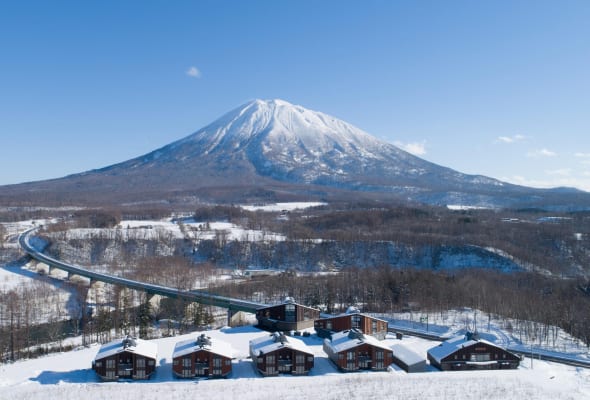 The Fuji of Hokkaido, Mount Yotei
In the past, Hokkaido was called Ezo and Mount Yotei was commonly called Ezo Fuji due to its obvious similar aspect with Japan most emblematic mountain. Nowadays, with the great leap of the tourism industry in the region, Mount Yotei became the figurehead of Hokkaido and each year, more and more tourists come to admire its incredible view and doing some ski around during winter. 
Both of the snowy landscape and the picturesque scenery on the flower fields deserve to be seen so you can come whenever you want all year round. Furthermore, The lovely town of Niseko is located right at the foot of Mount Yotei making it easy to access from Chitose Airport.
A lot of Snow in the Winter, Pure and crystal Springs all-over
Hokkaido gets its own climate which is totally different than Japan's other main islands. It can be quite cold in the winter with a lot of snow falling down but on the other hand, this is the only area in Japan who is not affected by the rainy season. Summer is not too hot, just the perfect temperature to spend pleasant holidays. 
In addition, since snow keeps melting during the warm period, there is a lot of wonderful natural springs everywhere on the island to refresh your mind during summer. Also, don't forget to taste the delicious and pure water which is the source of pride for the island.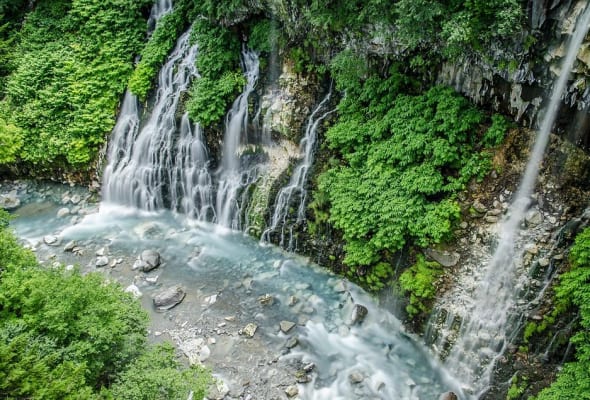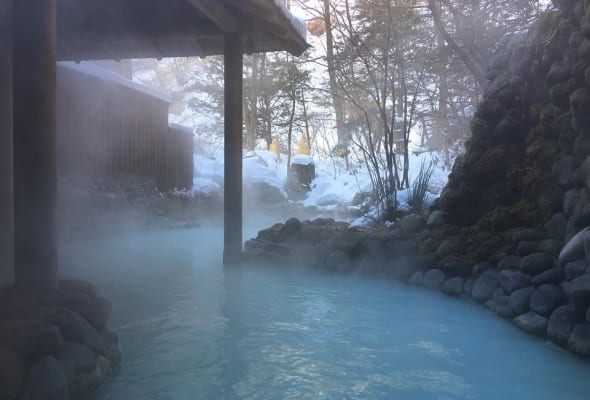 Landscape from Another world: noribetsu Hell Valley​
In the south part of Hokkaido, right behind the Hot Spring Resort of the same name lies this astonishing natural park where magic from magmatic activity takes place. 
The blend of this awe-inspiring decor full of smoke crossed with stifling sulfur really give you the feeling you are not traveling on earth anymore. This is literally a short trip in the gateway of hell but in Japan, even Hell brings good things and you will soon realize it once you would have tried silky hot spring of the region.
Colorful and Elegant Flowers Fields, an Unmissable Spectacle of Nature
The flora in Japan is famous to be hugely well preserved and to count a large number of different species. This is particularly observable in the wide plain of the northernmost island filled with high-colored flowers. 
These pastoral fields immerse the traveler in the immensity of bright tulip, azalea, lily of the valley, sun-flower and well more, naturally drawing him on the way to introspection and relaxation.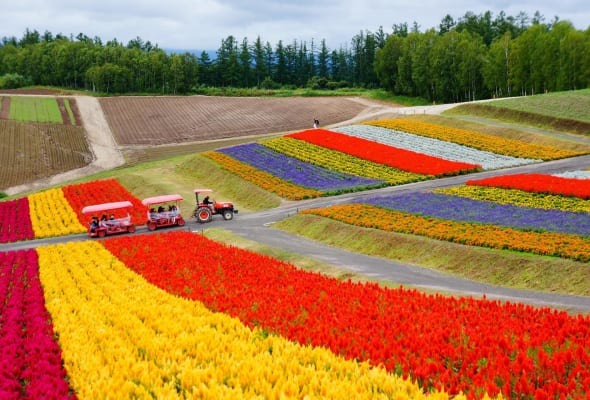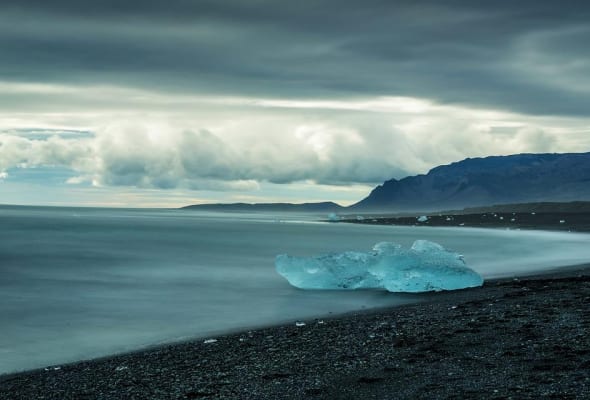 Drift Ice on Silent Shore
North is generally depicted with fir trees, snow or ice and Hokkaido is no exception to the rule. On the complete silent sand-beach with nobody in the vicinity, allow yourself to be fascinated by the drift ice that sea slowly brought from far away. 
To make your excursion in these heavenly and remote sea banks even better, don't forget to warm-up your body in the nearby onsen at the end of the day.
There is plenty of other splendid places to discover in Hokkaido. If you are looking for some recommendations or if you need help to prepare your travel, contact GOYOH. Also, if you would like to benefit our Services, feel free to Request an Invitation.