The Niseko restaurant Acorn is one of the newest additions to Niseko's gourmet dining scene. Opened in December 2018 it has already established quite a reputation as being the place to go for playful Japanese cuisine with an unexpected twist. Tokyo's Grand Chef Takeshi Nagashima is bringing his creative mind to Niseko to let its natural beauty shine while celebrating and reinventing the culinary heritage of Japan.
Truth is, acorn Niseko is unlike any other restaurant in Niseko you've visited before. Their aim is to create an extraordinary place and dining experience in the extraordinary world of Niseko; an internationally acclaimed ski resort known for its world-class powder snow attracting travelers from all around the world to Japan.
Deconstructing/Reconstructing Japanese Food
Dishes at acorn Niseko are following the theme of "Deconstructing/Reconstructing Japanese Food" and they truly rise upon this mission. Taking traditional ingredients, flavors and shapes and completely reimagining them is the specialty of the house of acorn. Their creativity is endless, making you longing for the next course in a thrill of anticipation for the next flavor explosion in your mouth.
At acorn Niseko you can be assured to always receive the best course possible. Under the principle of Japanese traditional "Kaiseki" a set menu is being served. However, at acorn there is only one set menu which is in the style of "Omakase" meaning that it is completely up to the chef to what is being served. It is a unique experience to just trust the chef but this responsibility drives them every day to bring each item to perfection and only serve the very best of their culinary creations.
The presentation of the dishes is highly influenced by Japanese aesthetics from the choice of tableware to the arrangement of each individual item on the plate. You can truly see, feel and taste the joy of Old and New Japan at acorn. Dishes include smoked infused sawara (mackerel), wagyu beef with fresh vegetables, hearty soups and more. Further, fine wines and Japanese Sake are carefully paired to enhance the flavor palate of each dish. The attentiveness to details even further to the selection of teas that can accompany the dishes as well. Of course, a dessert won't be missing either. Food at acorn Niseko is not just simply served, you are in for an unforgettable experience including the service, environment, atmosphere and, indeed, the food.
Don't worry if you have dietary restrictions, if you book in advance, special request such as vegan, vegetarian, gluten-free or halal can be accommodated.
Reviving Japanese Tradition in a Modern Setting
Acorn Niseko has found its home in Lower Hirafu, a laid-back area of the bustling Niseko Grand Hirafu Ski Resort. Less busy than Upper Hirafu, the relaxed atmosphere at acorn perfectly fits into its surrounding. The restaurant itself is a renovated log house with interior design done by Miki Yoshida who has also integrated his signature style in retail stores of renowned brands such as Ron Herman and Canada Goose all around the country.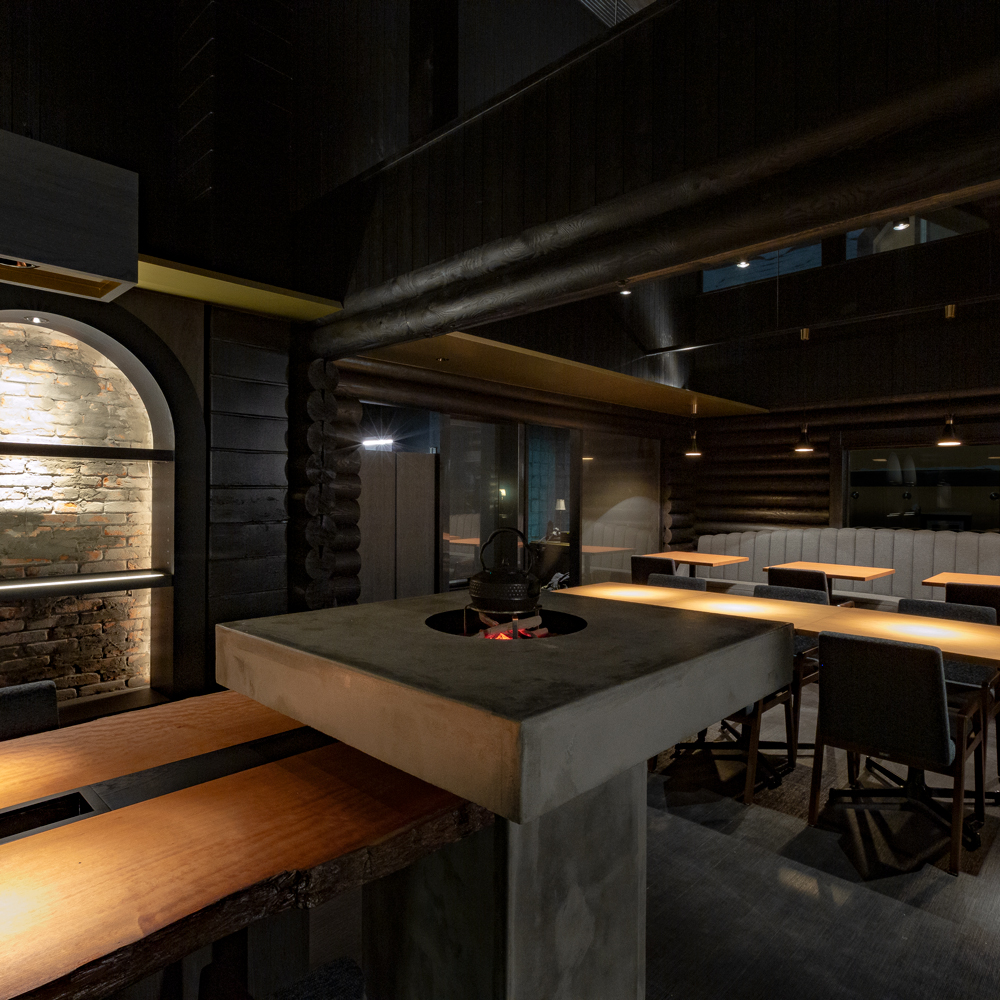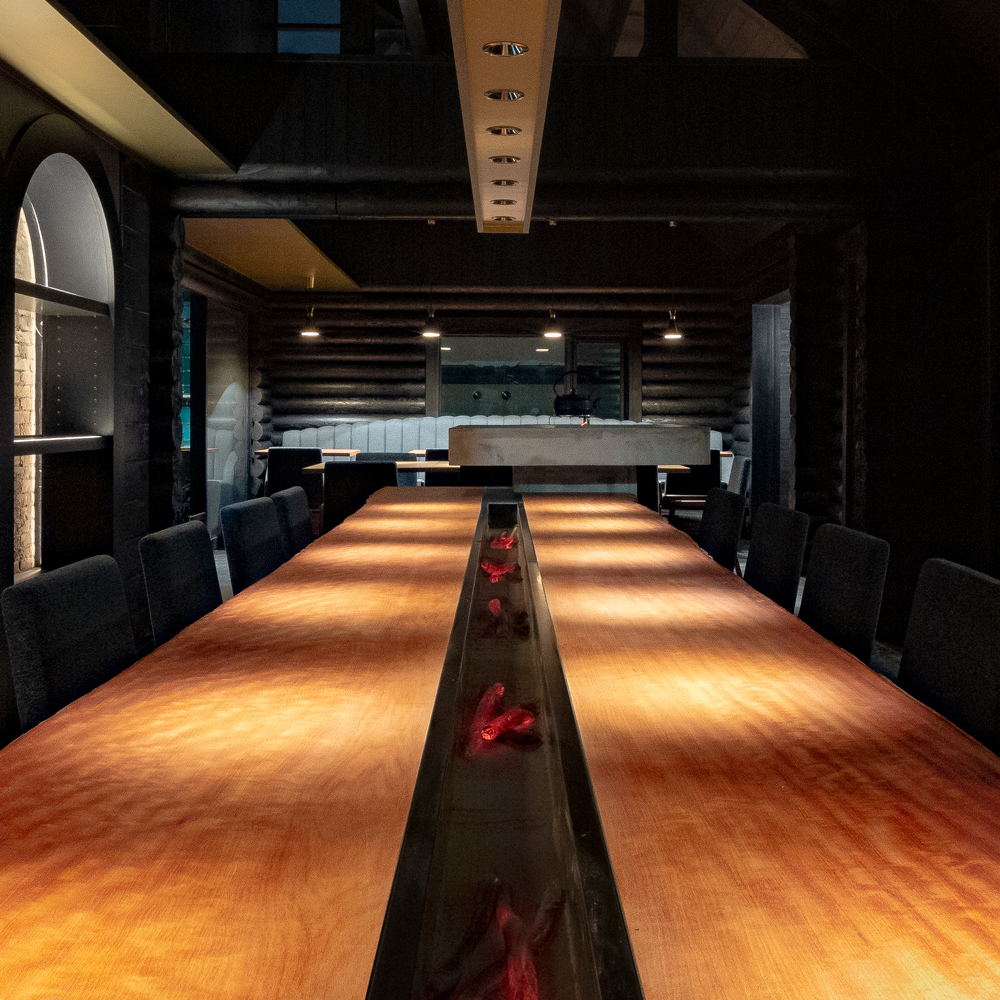 One of acorn Niseko's many special features is their modern twist on the Japanese concept of Irori. Irori is a traditional Japanese sunken heart that used to be the social center of every home. Family members and friends would gather around the warm fireplace sharing food and stories with each other. Sitting around the Irori was a simple yet essential practice of bonding to the people of Old Japan.
Unfortunately, the Irori has since become out of fashion but at acorn Niseko you can relive the old Japan in a modern setting. An Irori forms the center of acorn Niseko and you'll instantly feel the cozy and intimate vibe as if you've been invited into somebody's home. The Irori at acorn not only keeps the visitors warm on physical scale but also connects people. Bringing local and international visitors over great food together creates a new sense of community that is at the heart of Niseko which has become the home to an increasingly international population.
The person behind acorn Niseko: Takeshi Nagashima
Acorn Niseko is a Modern Japanese restaurant produced by Takeshi Nagashima. Born in Osaka as the first child to a local father and Taiwanese mother in 1979, he grew up in Japan where he took the first steps towards his culinary journey. After training in Japan and Italy and being also highly influenced by Spanish cuisine, Nagashima further developed and refined his skills whilst working at the world-famous restaurant El Bulli in Spain.
Upon his return to Japan, he opened his own restaurant "81" in Tokyo which has become known as a "theatrical restaurant". Entrance is by reservation only while the full-course menu has a strict start time and a theatrical "opening" starring among others Nagashima himself.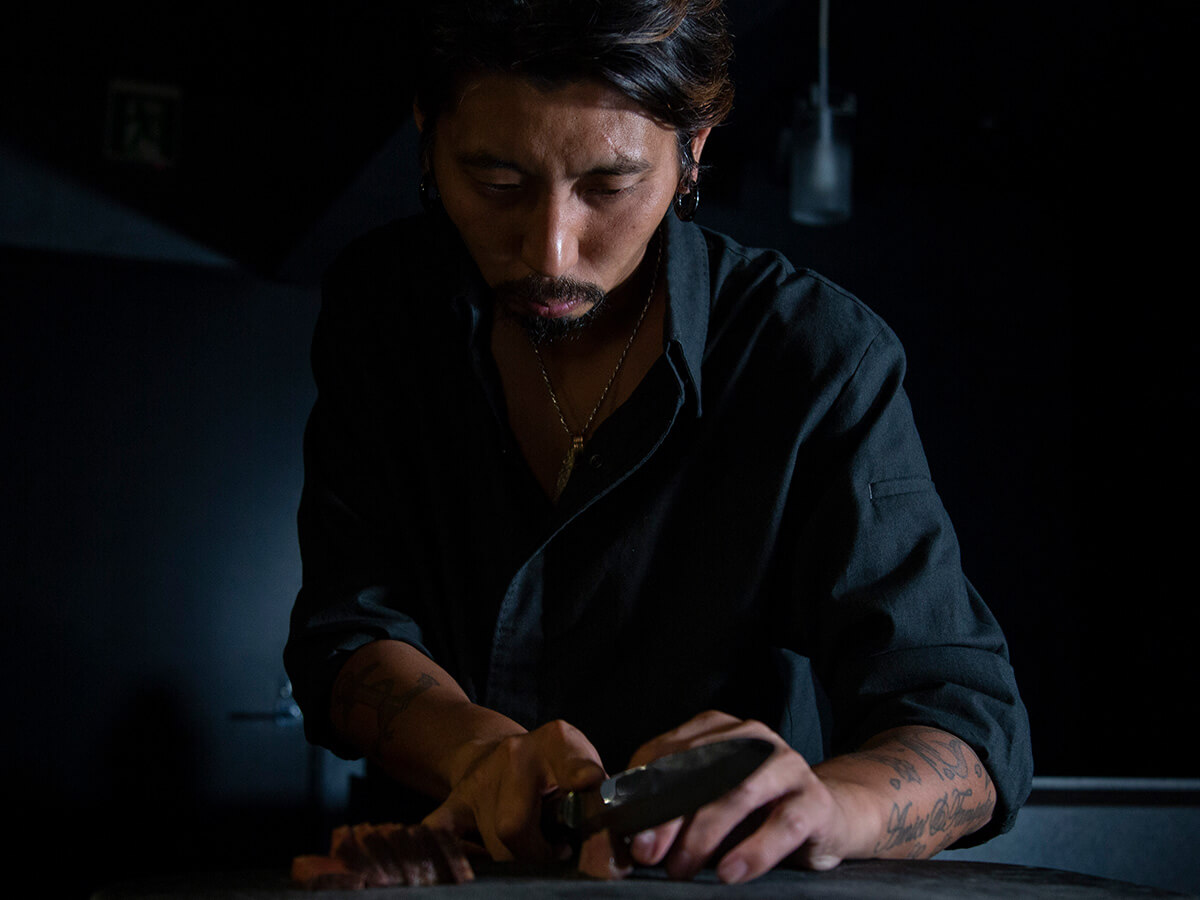 A visit to acorn Niseko should definitely be on your list for your next trip to Niseko. Be ready for spectacular world-class gourmet food in a warm and cozy environment.
Acorn Niseko is open daily from 17:30 to 23:00 (last seating 20:30).
Open in winter season only!
Last day for season 2018/2019: March 31, 2019.
Expected reopening for season 2019/2020 in mid-December 2019.
Contact GOYOH today to get one of the last seats for this season!