An Unmissable Event for Movie Lovers will take place in Niseko Saturday 16th March 2019. Don't hesitate to participate and submit your registration before March 5th if you are confident enough in your skills. Otherwise, just come to share your passion with the local community and travelers around.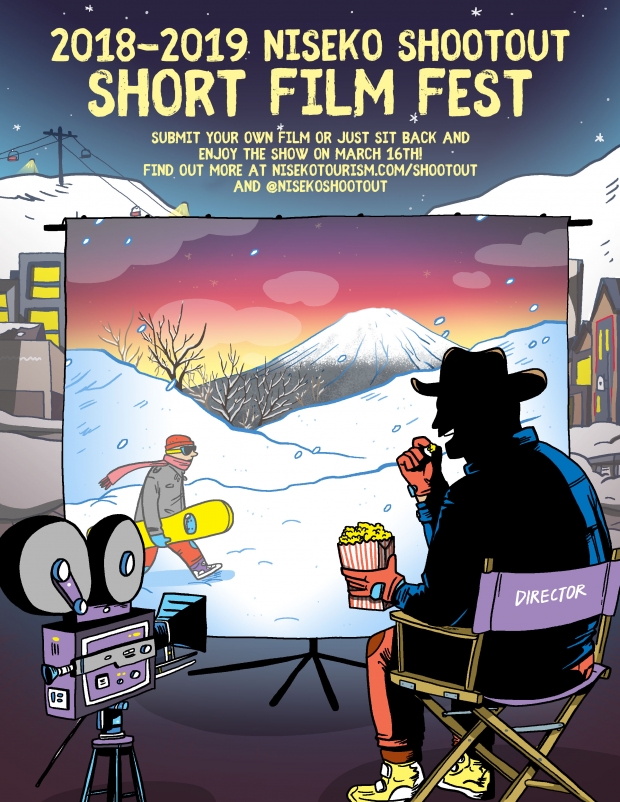 Content of the Festival 
The conditions to take part in the festival are quite simple: you only need to respect a maximum time limit of ten minutes while being creative and depicting a story about Niseko in HD quality. In addition, if the film is made in a foreign language, English subtitles are naturally necessary. Once selected, films will be displayed in the following five categories: Person Profile, Culture, Nature/Environment, Park Riding and Adventure/Exploration. As you can see, available themes are diverse for the happiness of all participants and spectators.
How to register and what are the Prizes?
Everyone can register until Tuesday 5th March just by filling out and submitting the registration form to Niseko Tourism Office (winstead@nisekoshootout.com). Entrants only have to provide three still images and a teaser clip of approximatively 10-15 seconds to participate. They will be then evaluated on five decisive criteria which are "Niseko Soul", "Story Telling", "Innovation", "Cinematography" and "Production & Editing". Regarding the prizes for the lucky winners, they will respectively obtain 60,000¥ and two Niseko United 5 day passes, 30,000¥ and 10,000¥ cash.
A Great Night to spend at Hanazono Resort
The event will be held at Hanazono Resort base building with a free shuttle bus available for interested peoples who would like to come from Hirafu. There are already some stunning films which have been submitted but it's never too late for taking a chance. This is also a good opportunity to meet new people and learn more about local life so feel free to join us and have a good time together.
Please contact us, if you are interested in Japanese movies and would like to have any further Information. Also, to use our Service, Feel free to Request an Invitation.