The Perfect place to not only enjoy your winter vacation
If you love Japan, you probably already heard about its premium winter paradise, right? Niseko Village lies in the heart of multiple ski resorts in the wider Niseko area. The winter paradise of Japan has developed into an internationally acclaimed winter destination. 
Why such a success? It is simple. Because their premium services and multi-lingual staff welcome overseas visitors with open arms and their fully integrated facilities leave nothing to be desired. Yet, Niseko is not only famous for its world-class powder snow but also for its luxurious resorts, premium dining, and relaxing hot springs. And if you would like to explore surrounding areas? easy access to Hirafu and the greater Niseko area is provided by shuttle buses and gondolas.
The View on the Mt. Fuji of Hokkaido
Located at the base of Mt Niseko-Annapuri, a breathtaking view of Mt Yotei awaits visitors at Niseko Village. Mt Yotei is also called Fuji Ezo as its symmetrical cone-shape resembles the famous Mt Fuji in central Japan. Just imagine this view as a background of your ski adventures and in summer it makes the perfects grounds for golf and hiking.

Premium Facilities at the Top of International Standards
Where to stay in Niseko is a question that keeps coming in your mind? The foundation of Niseko Village is the exclusive lodgings of Kasara, Hilton and The Green Leaf. These premium accommodations will certainly make your stay as comfortable as possible and take care of all your needs.
Kasara Niseko Village consists of 8 exclusive units and is the perfect home away from home ready for you to ski-in and ski-out all day. The 3-bedroom townhouses offer the highest level of privacy and are complemented by a private concierge service. Completed with modern living spaces and fully equipped kitchen spaces, Kasara townhouses are the perfect base for your vacation.
If you are looking for investment opportunities, Karasa townhouses are available for private ownership that will give you access to additional services. When you are out of town your property can simply be managed and leased out by YTL Hotels without you needing to do anything.
Green Leaf Niseko Village
Just a stone's throw away to Kasara you'll find The Green Leaf Niseko Village. This hotel features 200 rooms. they have recently been redesigned to feature contemporary interior design and integrate renowned local artists. The integrated facilities make Green Leaf a good destination for families. Children can enjoy activities such reindeer sledding or horseback riding. The Green Leaf also features an Onsen (a Japanese hot spring) as well as spa and pool facilities to relax after a long day of hitting the slopes.
Last but not least is the 506-room large Hilton Niseko Village. It provides direct access to Niseko Gondola taking you to the top of Mount Niseko-Annapuri in no time. You can believe us, it makes the difference in winter. In addition, the unique shape of the hotel allows a beautiful view on Mt Yotei and the surrounding landscape. Their most exclusive rooms even reveal a grand panorama of the Niseko area. Additional features include a fitness center to keep up with your routine and playground for younger visitors.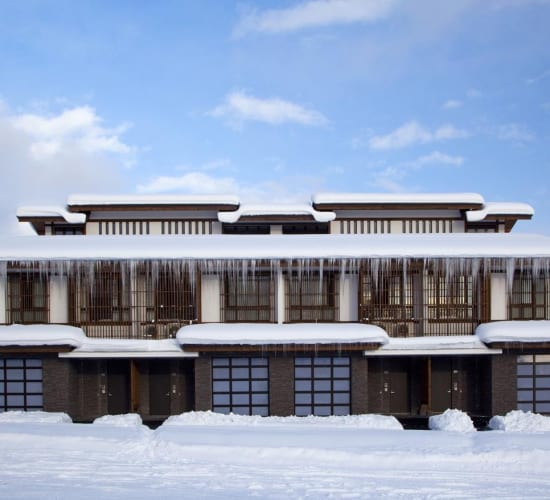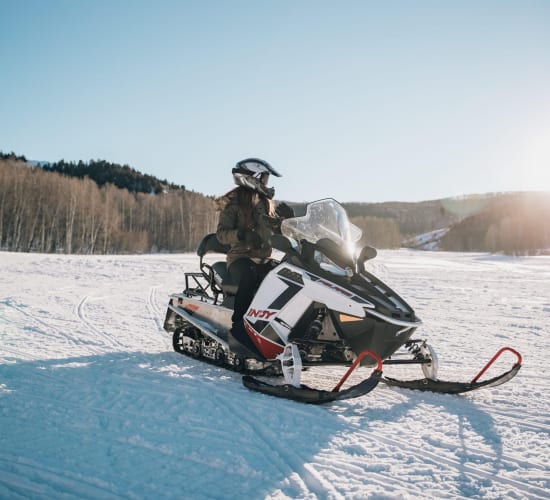 Activities in and around Niseko Village
You are wondering what do you here during your holidays? Niseko Village is well connected by lifts to many of the ski courses, even going up to Mt Niseko-Annapuri. While beginners can ski around the base without much risk, more advanced riders will enjoy the steeper descents in higher areas. Do not worry if you have never been on skis before, ski schools for children and adults alike will assist you on your rides and teach you everything you need to know to have a safe ride.
This magnificent location is not only perfect for skiing and snowboarding but also offers access to many more recreational activities. Snowshoeing, reindeer or dog sledding, snow rafting or hopping on a snowmobile are just a few examples. When nature wakes up in spring, Niseko becomes a great playground for hiking, cycling, golf or horseriding.
How to get to Niseko Village
Niseko is only a 2-hour drive away from Shin Chitose Airport near Sapporo which is well connected to the capital and other domestic airports (in fact, Tokyo to Shin Chitose is one of the busiest routes in the world). Shin Chitose already offers many direct connections within Asia. For example, Mainland China, South Korea, Thailand, the Philippines or Taiwan. 
And since Hokkaido is becoming more and more of a popular travel destination, the future will be even more convenient. International flights from outside Asia are projected to increase as well starting with seasonal service from Helsinki in the winter of 2019. Furthermore, the Japanese government is preparing to connect Kutchan (which is just a few minutes from Niseko Village) and Sapporo to the high-speed Shinkansen railnet by 2030.
Want to stay in Niseko Village? Contact GOYOH to reserve your accommodation, dinner or activities and get access to high end products and serviceselit.