New Otani Tokyo is a world-class hotel that not only offers prime accommodation but also hosts 37 superb dining facilities. Eating amidst the clouds or, if you prefer to stay closer to the ground, in a traditional Japanese garden – everything is possible at Hotel New Otani.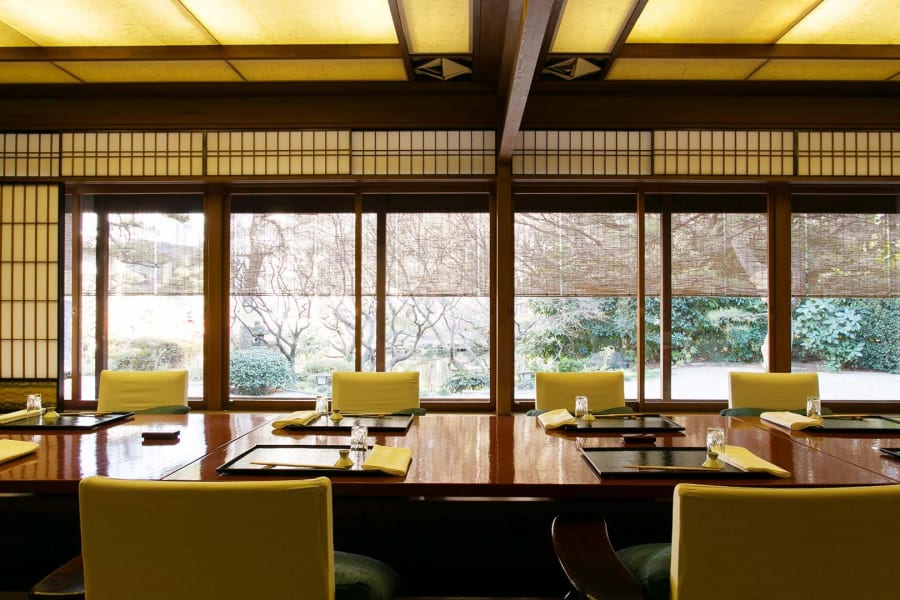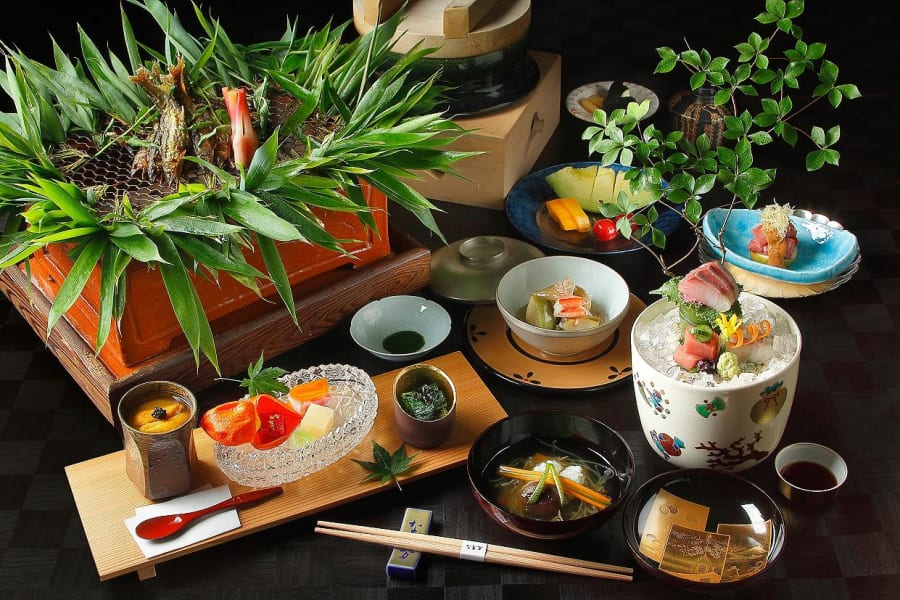 Nadaman's history dates back to 1830 when its first restaurant opened in Osaka. As Nadaman branched out across the country, the simple yet elegant traditional-style building in New Otani's Japanese garden became the headquarters leading the taste and feel of the dishes.
Five private tatami rooms offer an exclusive experience and a grand view into the garden. Varying in size they can host a maximum capacity of 4 to 20 people per room and can be used for various occasions. The seating is arranged in a Horigotatsu style where the areas beneath the tables are sunken to create more space for the legs which makes it more comfortable sitting on the floor.
Lunch and dinner courses are in Kaiseki style which is a set menu that reflects the flow of the seasons. Head chef Hiroshi Sakimoto originally from Kyoto is well established in Tokyo and his mission is to create the best experience possible for his guests. He focuses on preparing dishes that capture the flavour of their ingredients and are pleasing in both taste and presentation.
Hours
Lunch  11:30am – 3:00pm
Dinner  5:00pm – 10:00pm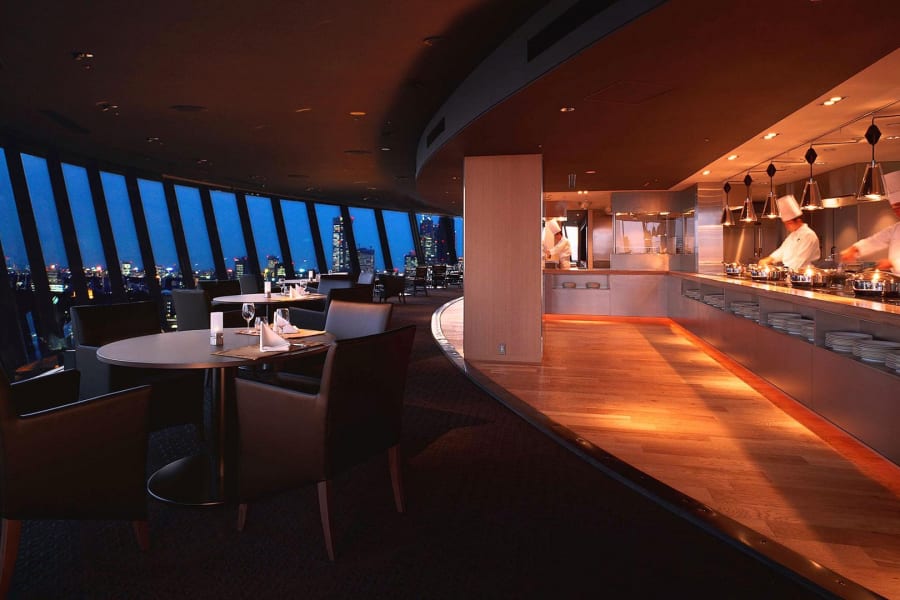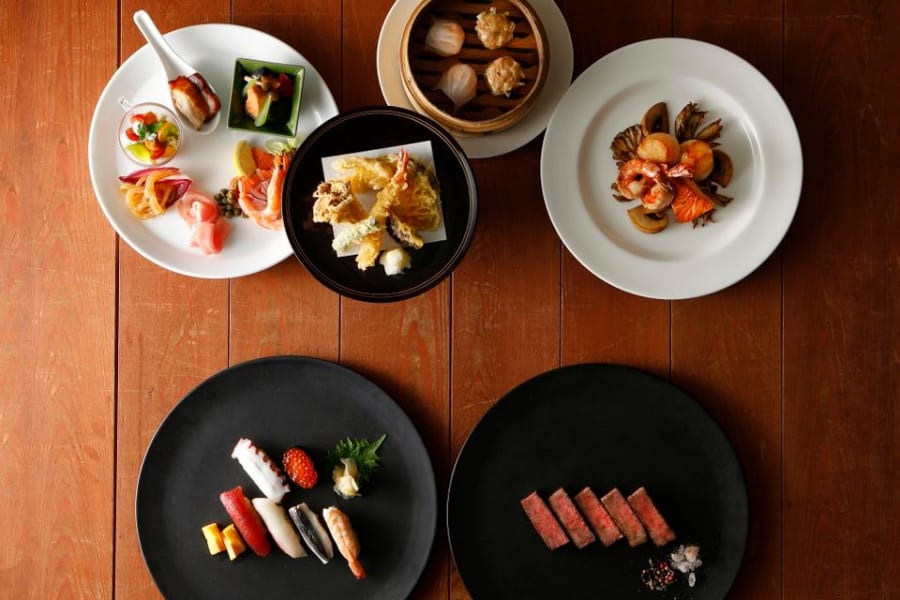 Yonetaro Otani, the founder of Hotel New Otani Tokyo, believed that everyone should have the chance to see the beauty of Mt Fuji. He fulfilled his mission by placing a vistaed restaurant on the top floor of his new hotel that reveals the grand panorama of Tokyo. With a 360-degree view of the city, guests can enjoy the magnificent view over the metropolis at their tables and on their way to and from the buffet, perhaps even catching the sight of Japan's sacred mountain on a clear day.
Another innovative feature of The Sky is its buffet that includes various items that experienced and creative chefs will cook right in front of the guests. Choose between Japanese dishes such as Teppanyaki or Sushi or add some Chinese or Western cuisine to your plate. To complete your course, select from a large variety of desserts whose original recipes were created by in-house Patisserie SATSUKI.
The menu lineup changes every 2 months which makes The Sky a perfect place to come back to and enjoy the newest and freshest flavours of the season. Private rooms and a set menu are also available for more privacy or special occasions and can host 4 to 6 people.
The embedded bar provides a sophisticated atmosphere and is the perfect place for an after-work drink. Every Friday night Sky Bar hosts a DJ night treating their visitors to Jazz and Soul tune.
Don't miss out on this unique dining experience up in the sky during your stay in Tokyo.
Hours
Lunch  11:30 – 15:00
Dinner  17:30 – 21:30
Sekishin-tei & Seisen-tei
Dining in the middle of a 400-year old Japanese garden is truly an extraordinary experience. At Hotel New Otani you even have two options to enjoy the impressive scenery along with sizzling-hot steaks and seafood.
Teppanyaki is a unique Japanese concept of grilling ingredients on a hot iron plate right in front of the dining guests. Watch juicy meat and fresh vegetables sizzling and forming into their cooked state to be enjoyed right away.
Sekishin-tei and Seisen-tei are the perfect locations to try a succulent piece of Wagyu beef or fresh seafood. Inspired by Japanese cuisine but incorporating Western and Chinese elements, the menu also features a premium selection of fish, shrimp, lobster, and vegetables.
Hours
Lunch  11:30am – 2:00pm
Dinner  5:30pm – 9:30pm
Contact GOYOH to secure your table at one of New Otani's top restaurants!
For more information on Hotel New Otani Tokyo please refer to their website.